Scissor Lift Pallet Truck or High Lift Pallet Truck designed to load and unload conveyor, feed presses, or any applications requiring moving and positioning pallets or containers of materials. Scissor mechanism gives it required strength.
Improved Safety: Automatic activation of self-adjusting stabilizers when lifting loads higher than 400 mm for maximum stability.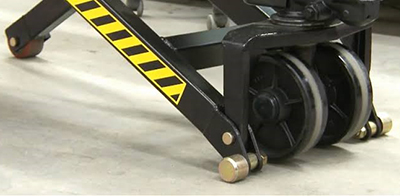 Great Stability: Extra-long front legs increase the, Stability when handling unevenly loaded pallets. When lifting height below 400 mm, it is an easy to move as a pallet truck, above 400 mm the truck is automatically locked by triggering the supports at both sides of the steering wheels.